Impress your significant other with the ultimate display of affection - a breathtaking arrangement of Teleflora's Once Upon a Daisy. This stunning bouquet features a delightful combination of light blue hydrangeas, bright yellow gerberas, and delicate white daisy spray chrysanthemums that will fill [...]
Add To Cart
Add 8 Balloons for $42.95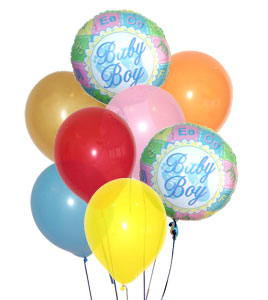 Impress your significant other with the ultimate display of affection - a breathtaking arrangement of Teleflora's Once Upon a Daisy. This stunning bouquet features a delightful combination of light blue hydrangeas, bright yellow gerberas, and delicate white daisy spray chrysanthemums that will fill [...]
Impress your significant other with the ultimate display of affection - a breathtaking arrangement of Teleflora's Once Upon a Daisy. This stunning bouquet features a delightful combination of light blue hydrangeas, bright yellow gerberas, and delicate white daisy spray chrysanthemums that will fill [...]
Impress your significant other with the ultimate display of affection - a breathtaking arrangement of Teleflora's Once Upon a Daisy. This stunning bouquet features a delightful combination of light blue hydrangeas, bright yellow gerberas, and delicate white daisy spray chrysanthemums that will fill any room with heartwarming emotions.

The chrysanthemums in this bouquet have been a symbol of friendship and well-wishing since ancient times, embodying purity and innocence in their dainty white petals. Whether you want to express your eternal love to your mother or celebrate your bond with a dear friend on Friendship Day, Teleflora's Once Upon a Daisy is the perfect choice.

Sometimes words are not enough to convey the depth of your emotions, and that's where a beautiful bouquet of flowers comes in. Let Teleflora's Once Upon a Daisy do the talking and express your love in the most graceful way possible.

Not only is this bouquet perfect for gifting, but it also makes for a stunning addition to any home decor. The vibrant colors and heavenly fragrance of the flowers will instantly spruce up your living space, whether you choose to place it in the center of your living room or on your front porch.

Order your own bouquet of Teleflora's Once Upon a Daisy from your local florist today and enjoy same-day delivery. Surprise your loved one with this beautiful expression of love and passion.
Item No. T34-1A
Price: $74.95